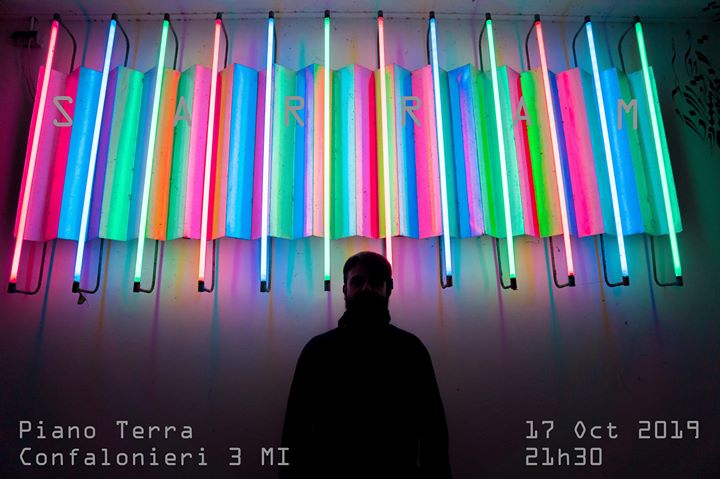 S A R R A M live A/V
S A R R A M è il progetto solista di matrice drone / ambient in cui convivono elementi di natura doom, postrock e noise del sardo Valerio Marras.
"A Bolu, in C" è il primo disco a nome S A R R A M ed è uscito nel Febbraio 2017 per Talk About Records ed è composto da una suite di 37 minuti in cui il suono di chitarra viene miscelato attraverso l'utilizzo massiccio di effetti e loop improvvisando un percorso armonico, circondando l'ascoltatore di un paesaggio sonoro a tratti elettrico, a tratti etereo e riflessivo, a tratti nervoso e rapido.
"Four Movements of a Shade" è uscito il 23 Novembre 2018 per la tedesca Midira Records. Composto da quattro movimenti interamente strumentali, in cui ognuno rappresenta il completamento dell'altro, il disco cementa ciò che era già stato definito dal precedente "A Bolu, in C" spingendosi però in territori sonori in cui drone e ambient lasciano spesso spazio a soluzioni sonore in bilico tra postrock, dark ambient e new wave. "Four Movements of a Shade" è stato registrato il 19 Gennaio 2018 al Blacktooth Studio di Cagliari da Nicola Olla, mastering a cura di James Plotkin (Khanate, Sunn O))), Isis)
Già in attività con Thank U For Smoking e Charun – Marras – ha suonato in tutta Europa condividendo il palco – tra gli altri – con Killing Joke, Scott Kelly (Neurosis), Russian Circles, This Will Destroy You, The Dillinger Escape Plan, Alessandro Cortini (NIN); esibizioni al Dunk! Festival in Belgio ed al We are a Young Team in Francia, Who Needs Lyrics in Slovacchia, al Karel Music Expo, Tube Cult Festival e Cave Fest in Italia, Accademia delle Belle Arti di Monaco di Baviera, Spaziomusica project a Cagliari (K. Stockhausen, I. Xenakis, T. Riley); collaborazioni con il museo MAN e il Museo Ciusa di Nuoro, Luca T. Mai (Zu), Thisquietarmy (Canada), Quadratino Pericoloso (videofactory). Ha pubblicato album con Third I rex, Subsound Records, Midira Records, Dunk! Records, Talk About records, Cave Canem, As above so below.
Streaming: https://sarram.bandcamp.com/
"A Bolu, in C" part I: https://www.youtube.com/watch?v=LJKt6C73KNs
I I I (Tribute to Zidzslaw Beksinski): https://www.youtube.com/watch?v=tu7SM0zq3kI
FB: https://www.facebook.com/sarramproject/
PRESS:
"Una cerimonia oscura divisa in quattro movimenti capaci di inchiodare all'ascolto anche il più impermeabile e distratto viandante sonico." Rockerilla (Gennaio 2019)
"Quaranta minuti di musica ridondante e grandiosa, gotica nel senso più spirituale, con uno stupore tendente all'eternità." Ondarock (Novembre.'18)
"As a whole, this is a real trip to listen to from end to end. Headphones recommended." Toneshift (Nov. '18)
"The success – and ultimate power – of Four Movements lies in S A R R A M's attention to detail and the compositional awareness: it's not just the way the crushing weight contrasts with the graceful levity, but the timing of the transitions. Everything is exquisitely poised and placed to yield the greatest effect – cerebral, emotional, physical – and that effect is most moving."
Aural Aggravation
'Four Movements Of A Shade' is Marras zijn weergave van wat er zich afspeelt aan de schaduwzijde van het universum." Dark Entries
entrata libera, cappello sempre ben accetto